BLAZE – Ageing with Wisdom and Grace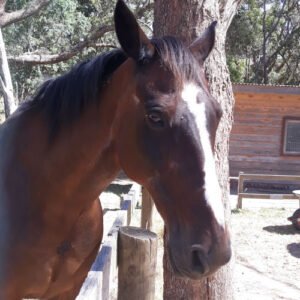 Oscar Wilde said, 'With age comes wisdom but sometimes age comes alone'.  It is not a far stretch to say that a horse has wisdom, but if the wisdom word can be used with any horse,  it would with be Blaze, our rock steady standardbred.
We're not entirely sure of Blaze's background but we suspect he was once a trotter. What we do know-is that he's been with us for 15 years- a constant companion to our lead horse- Jenny. What we suspect is that at some point in his past he was subject to some abuse. His first couple of years with us were marked with stress and anxiety.
Today – years later- Blaze is a solid senior citizen. He stands quietly and with patience.  If a client wants to try to pick out hooves or try something different, Blaze is our man.  He is the most level-headed, mature member of the herd.  Jenny and he are joined at the hip, walking the property together, sharing food, grooming each other and when there are lots of flies around, they use their tails to swish each other's faces.  He is calm and accepting and many of our clients are drawn to his even, reassuring nature. He's not the obvious first choice when clients come to work with the horses- but it's surprising how often we find people with him -embracing his stillness and peace. Some clients just like to sit with him in a quiet, reflective space.  His stillness is a great augment to mindful practice.
For more information on equine therapy,  Please call Annie on 0411 549562.